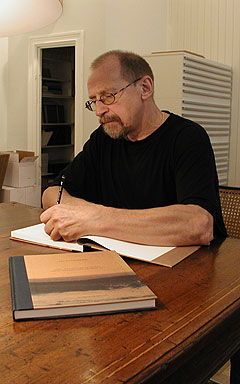 Kristian Petri writes:
"The motif is said to be Stockholm´s archipelago. But sometimes I get vibes from other places… the sand dunes of Skagen, a thorny coast in Brittany, an elongated marsh in Holland… but this is also positive - the way the landscapes open up to other places, other spaces.
There are no references to time here, no buildings, boats, people… most often one can see a cove, some rocks, the sea and sky equally sublime… Från Stockholms skärgård (From Stockholm´s archipelago) has a daily journal quality about it, a collection of fictive documents. I recognize myself in this, in the playfulness and the will to control; the intoxicated feeling of creating one's own series of fictitious documents."

Bo Nilsson writes:
"There is an apparent ease of execution, absent of traces of an agitated working process. It may be this sense of contentment one experiences when viewing these paintings.
It is thus against this background that one must re-evaluate LG Lundberg´s artistry within the history of Swedish art. His later landscape paintings represent the most important period in his career, not least because in these paintings he manages to unite the linguistically detached attitude of the 1960s and its diverse references with a landscape experience laden with complexity."